How to Read Your Bill
Important information and service notifications from TDS.
Refer to this information anytime you call TDS or when you sign up for a TDS Online Account.
Call or go online for billing assistance.
Your monthly billing details, including previous balance, current balance, and due date.
Paying by mail? Please tear off this portion of your bill and include it with your payment.
Go green—save paper—by signing up for TDS Online Bill Pay.
Charges for current services are broken out by type (i.e. Internet, TV, Phone, Communication). Charges are subtotaled (in the category bar) and itemized.

If you added or changed services mid-month, partial month billing (prorated billing) will be listed separately under each category.
Avoid late fees by paying your bill on or before this date.
Helpful information regarding your monthly bill, including a description of taxes and fees, and other required information.
Some customers may see call details; including a list of calls made, the name of the long distance carrier(s), duration of call, and charges.
Take Note: Paper bills sent in the mail are black and white, rather than in color.
PAGE 1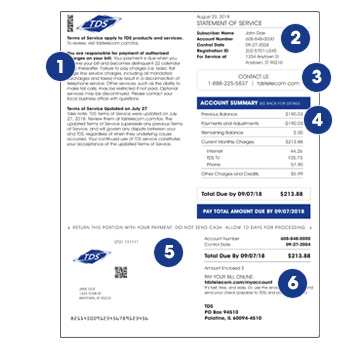 PAGE 2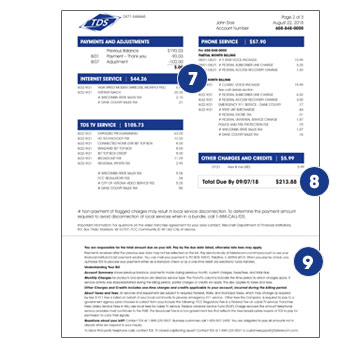 PAGE 3