If you need to cancel your service(s), please call TDS®. If we have not received a request to disconnect your service(s), you will continue to be billed for your regular monthly service charges. If you want to discontinue services, please call 1-888-CALL-TDS (225-5837).
Note: For security purposes, all callers must be appropriately verified before TDS can discuss or make changes to accounts and services.
Final TDS Bill Information
If you are cancelling services, you may be responsible for the full billing period of the current bill cycle. Charges are listed by service type and the dates shown indicate the time to which charges apply. Most service is subscription-based, which means refunds or credits do not apply if you cancel before the end of your billing period.

Example: If you request a disconnect on the October 25 and your billing cycle began on the October 16, you'd be responsible for the full billing period service charges from October 16 to November 15. Service charges will/may not be credited back to the date of disconnect, October 25.
Refer to the chart below for what services you may see charged based on your area.
For customers in:
Partial-month billing applies to these service:
Ga. and N.H.
Internet and TDS TV®/TDS TV+
Ala., Colo., Fla., Ill., N.D., Ore., Vt.
Internet and telephone service
Idaho, Minn., Wis., Tenn., Ind.
Internet, TDS TV/TDS TV+, and phone service
How to Make Your Final Payment

After your services are disconnected, you'll no longer have access to the TDS online payment system (ePay). TDS has 3 options for paying any final balance after you have disconnected your services.
Mail a check for your final balance to:
TDS Payment Center
P.O. BOX 94510
Palatine, IL 60094

Pay over the phone through our automated payment system ($3.95 fee)
Pay online with the TDS rush payment ($4.95 fee)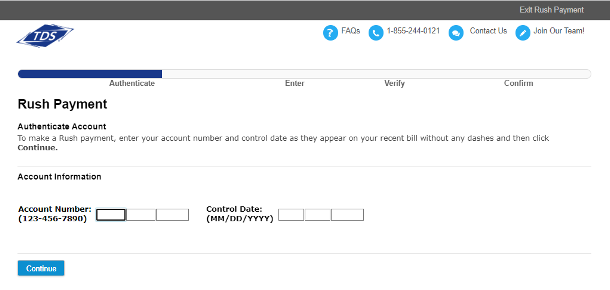 Equipment Return

When cancelling your TDS service(s), certain equipment provided by TDS must be returned. Some older models of equipment may be excluded and will not need to be returned. A TDS associate will confirm this for you at the time of requesting removal of service(s).
Upon cancellation of service(s), you'll be sent an equipment return kit that includes a box and a pre-paid shipping label to use to send back equipment.
When you've received your equipment return kit, follow these three steps.
Place all equipment in the box provided to you.*
Apply the enclosed prepaid UPS shipping label to the outside of the box.
Drop off the box at any authorized UPS location or drop box. Call 1-800-742-5877 or visit ups.com/dropoff to find a location near you.
*To avoid unreturned equipment charges, TDS must receive the return-kit with all TDS equipment on your account wihtin 30 days of service cancellation.
Keep your reutnr receipt or tracking number for your records. Please allow up to two weeks for the return to process and your account to reflect these cahrgers.
See this Equipment Return Guide for more details
Have a question about returning equipment? Contact Us and we'll get back to you within 3 business days.