Instructions for remote control differ. Please use the instructions following the image of your remote control.
TDS TV+ allows users to pause, rewind, and fast-forward shows while watching a show. You can even rewind an already in-progress show you just tuned to. Here's how:

Press the OK button on your remote to pause live TV. Press OK again to resume watching TV.

Press the PLAY button on your remote's Viewing Controls to pause live TV. Press PLAY again to resume watching TV.
When pausing live TV, you see a green bar showing a one-hour period. The green segment shows the portion of the hour that has been saved by your TDS TV+ Receiver. The thick white line marks your current point in time. When the white line is back in the green segment, you're "behind" live TV.
You can rewind and fast-forward up to three times for three different speeds. Here's how:

Press OK to resume watching at normal speed

Press PLAY to resume watching at a normal speed.
On Screen Features: a pop-up screen to Rewind, Fast Forward, Advance (skip forward 30 seconds) or Replay (skip back 7 seconds). You can also use this feature to start over programs or jump to live TV.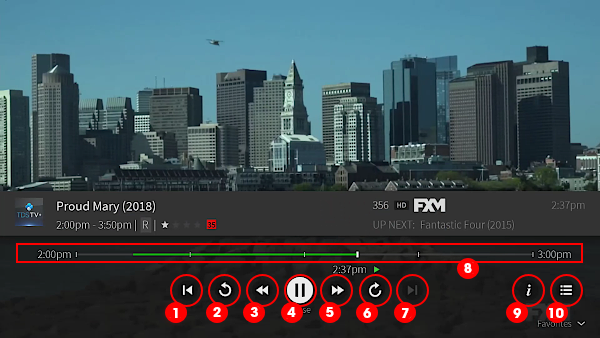 Controls:
Start Over- Starts the show from the beginning (when available)
Replay- Jumps back using seven-second intervals
Rewind- Rewinds playback
Pause/Play- Pauses while playing, plays while paused
Forward- Fast-forward playback
Advance- Jumps forward using thirty-second intervals
Go to Live- Jumps to current "live" show point
Timeline- The green segment generally indicates what portion of the show can be controlled
Info- Same as pressing the 'Info' button
Guide- Same as pressing the 'Guide' button