2018
Dorrell Wenninger
Congratulations to Central Oregon Daily Meteorologist Dorrell Wenninger from Zolo Media, a subsidiary of TDS Telecom, for his selection as the 2018 Q3 Volunteer of the Quarter!
Dorrell moved to Bend, Oregon, in April 2018 and made a huge impact in the community in a very short time. He not only lends his voice to emcee charitable events, but also gives his time to organizations in need. Donating platelets, fostering dogs, dancing for charity, and cleaning up the buttes are a few examples of how Dorrell assists the American Red Cross, Street Dog Hero, The Sparrow Club, Central Oregon Landcruisers, and many other non-profit organizations. "Getting out into the community and volunteering our time is something that just comes naturally to my wife and I," says Dorrell. "We love giving back and being involved."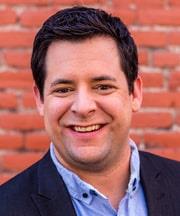 TDS aims to celebrate all employees that give back to their communities. Click on a year to see the past Volunteer of the Quarter winners.