A Smarter Way to TV
Go beyond the ordinary boundaries of entertainment, where your favorite live TV and streaming apps like Netflix* are intelligently united in one place.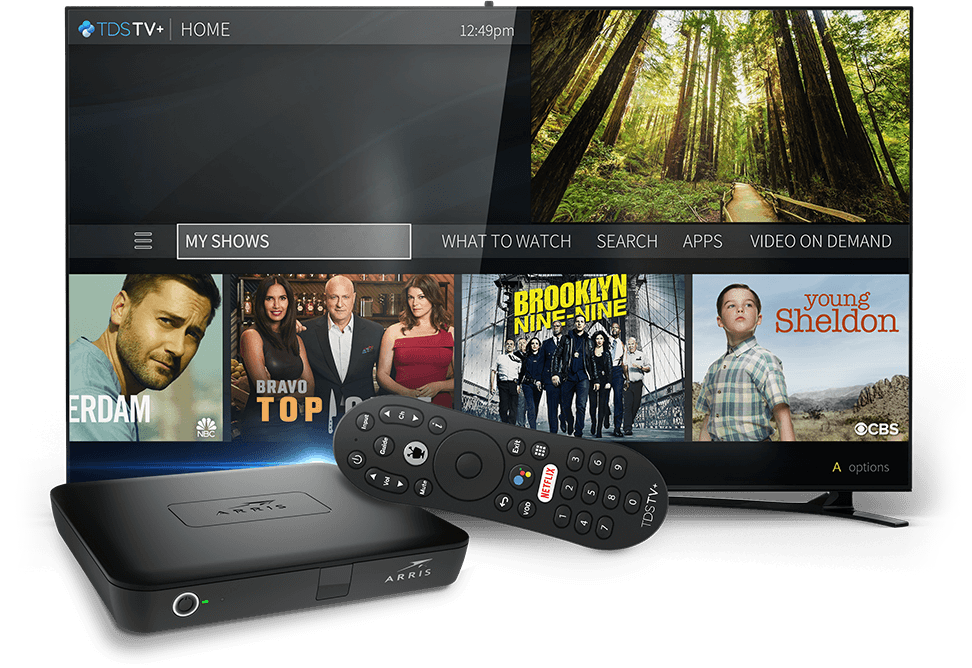 Boundless Entertainment
Powered by TiVo®, TDS TV®+ combines integration with intelligence to bring you more of what you love.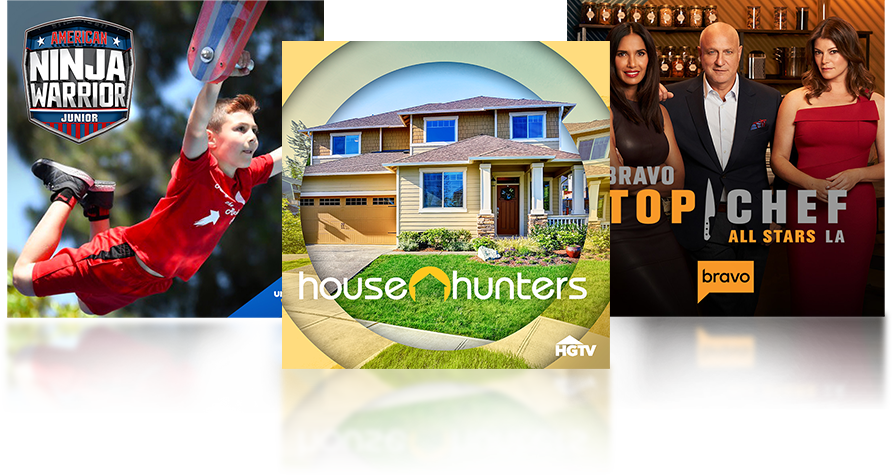 Prices for the future of TV start at only
$45/mo. when bundled
Get a TDS TV+ Receiver FREE for 1 year!
Bundle with high-speed internet and digital phone service for a complete home entertainment experience.
TiVo is a registered trademark of TiVo Brands LLC.
Limited-time offer. TDS TV+ 1-Year Discount Offer: $20/mo. discount: Offer valid for residential customers who complete a qualifying TDS TV+ bundle with TDS TV+, high-speed Internet, and/or phone. TDS TV+ must be a newly added service to qualify. Discount is for 12 consecutive months. After promotional period, standard rates apply. Professional Installation includes installation of the TDS TV+ Receiver, wireless access point, and up to ten wireless receivers. Installation charges may apply if additional receivers are needed as determined by the technician at the time of installation. Offer(s) not available in all areas, and are subject to change without notice. Certain restrictions apply. If customer terminates any individual service that is part of the bundle, discounts are void. Customers who previously took advantage of a TDS TV+ bundle promotion and those with delinquent accounts are not eligible. Prices do not include DVR storage fee, Internet service, or required equipment fee, federal, state, or local taxes and fees. Installation fees may apply.
1 Free TDS TV+ Receiver for 12 Months Offer: Limited Time Offer. Valid for qualifying residential customers who add new TDS TV+ service with Explore programming to TDS Internet and/or Phone service. After 12 months, you will be billed $6/mo. for the TDS TV+ Receiver, unless you call to cancel. Delinquent accounts are not eligible for this offer. If customer terminates the bundle or any individual service that is part of the bundle early, discounts are void.
TDS TV+: Wireless TDS TV+ Receiver signal quality/range may vary depending on interference, obstructions, and home construction. If signal quality/range is not sufficient, additional wiring may be required. A minimum of one receiver and a maximum of ten receivers are allowed per account. Compatible equipment is required, and in order to use the TDS TV+ Receiver over Wi-Fi, you must have a wireless router with 802/11ac Wi-Fi. Normal fees apply. All prices, packages and programming subject to change without notice. Some channels are not available in all areas. Sports programming is subject to in-market availability and blackouts. Streams are utilized and provisioned over your internet connection. Bandwidth may restrict the resolution and the number of concurrent TV streams delivered to home; impacting the number of programs a customer can watch at the same time. Customers electing Standalone TDS TV+ service will be limited to 5 streams over TDS TV+ Receivers before video signal is impacted. Equipment provided by TDS must be returned upon termination of service or unreturned equipment charges will apply. Return shipping charges may apply. TDS TV+ may not be available at all TDS service locations.
Cloud DVR functionality is included with TDS TV+ and requires a TDS TV+ Receiver and optional monthly DVR storage fee. Downgrading DVR storage or recording content without available storage will result in deleted recorded content. When content is deleted it will be based on the oldest recorded content first, unless specified to keep 'as long as possible.' All content, even content marked 'as long as possible,' will automatically be deleted as space is needed for new recordings. Based on network requirements a limited number of network recordings will expire automatically after 90 days from the date it was recorded. A limit of 10 programs can be recorded simultaneously.
TV Everywhere: Requires a tdstelecom.com email address and Internet access. Customer receives TVE access to channels in their TDS TV+ subscription. Type and amount of content available for each network is determined by network, and subject to change. Use of parental controls can restrict or filter programming available.
Delinquent accounts may lose service. Certain services not available in all areas. Price may vary by serving area and is subject to change without notice. Services subject to TDS Terms of Service, TDS Privacy Policy, and TDS Acceptable Use Policy. TDS Telecom®/TDS TV® are registered trademarks of Telephone and Data Systems, Inc. and licensed to TDS Telecommunications LLC. Copyright © 2020, TDS Telecommunications LLC, All Rights Reserved.