Please review the numbers listed, which correspond with sections of your bill, as illustrated on this page.
Please note: TDS bills for its services in advance and prorates charges, too. As a result, your first TDS bill may show multiple charges for the same service. These initial charges are correct, even if they appear to be duplications. Going forward, your bill will reflect the current month's charges (one line-item per service) only.
PAGE 1

The amount of your last TDS bill.
Payments and adjustments applied to your account since your last bill.
Your previous balance, less payments and adjustments.
Refer to this information anytime you call TDS or when you sign up for an online account.
Your new total balance.
New charges you're being billed for.
When paying by mail, write the amount you're paying in this box. Then, tear off the bottom portion of this bill and send it back with your payment.
Avoid late fees by paying on/before this date!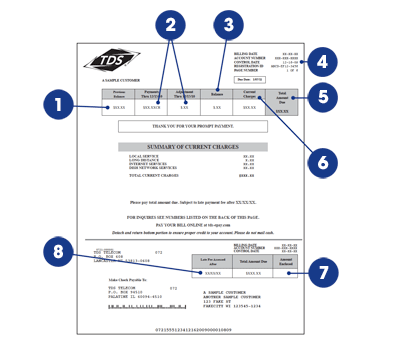 PAGE 2
A list of your payments and any account adjustments.
An itemized list of your Local Telephone Service Charges. Note: if you see more than one line for a single service, it just means the service was added or changed mid-month.
Here is a detailed list of long distance calls that were placed from your account.
This is the name of the long distance carrier(s) you've chosen.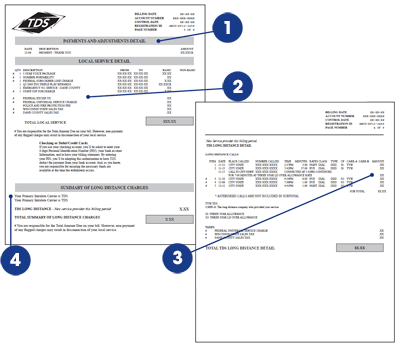 PAGE 3
Here is an itemized list of your Internet charges.
Here is an itemized list of your DISH Network® charges.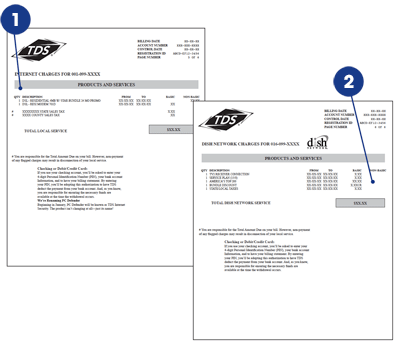 Search the Help & Support Topics